Summer Archaeology 2022 - Archaeology Monday in Montesei di Serso, Torre dei Sicconi and Valcava
Other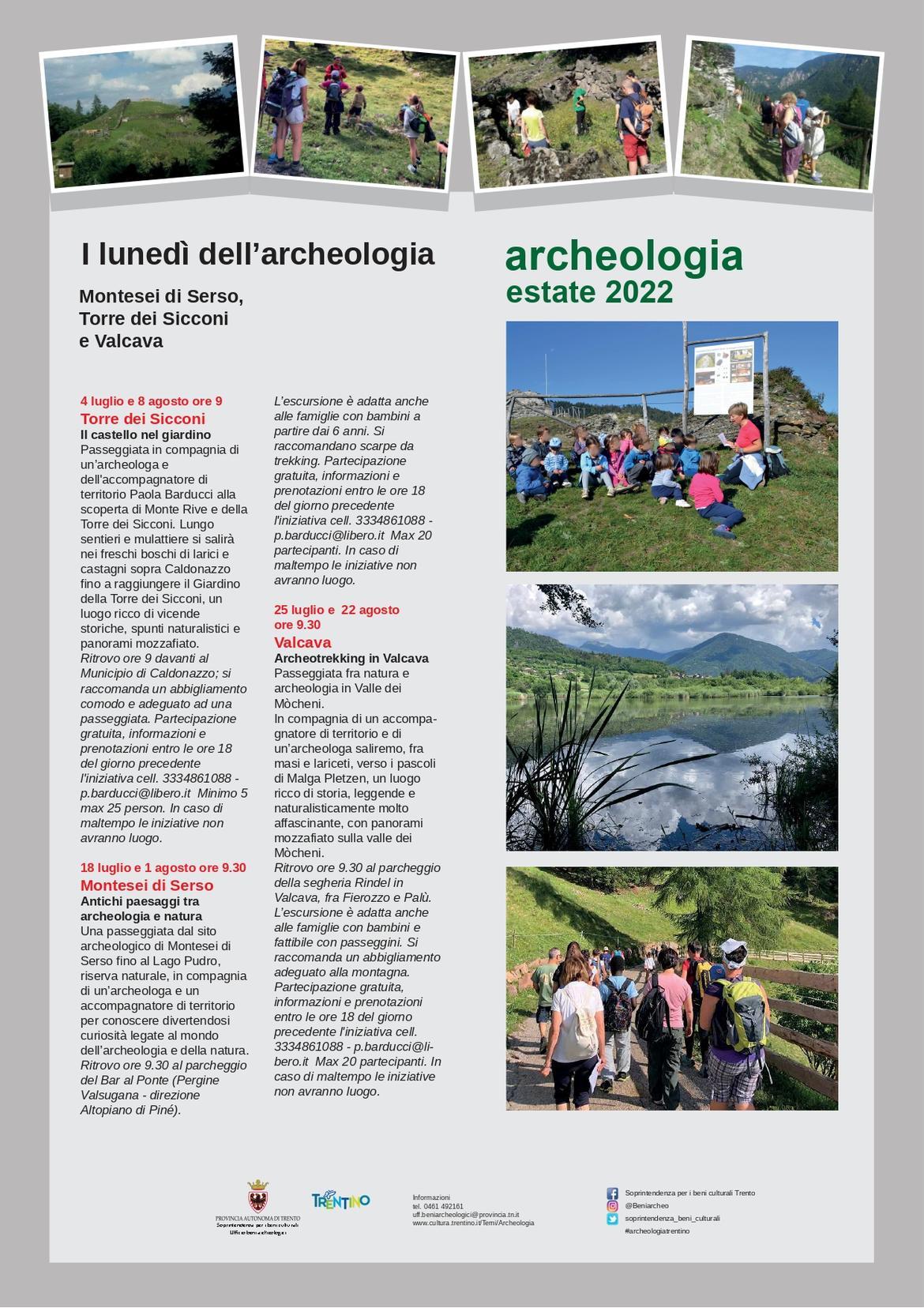 4 July and 8 August at 9
Torre dei Sicconi
The castle in the garden
Walk accompanied by archaeologist and territory guide Paola Barducci to discover Monte Rive and the Torre dei Sicconi. Along paths and mule tracks we will climb into the cool larch and chestnut woods above Caldonazzo until we reach the Garden of the Sicconi Tower, a place rich in historical events, naturalistic insights and breathtaking views.
Meeting point in front of the Caldonazzo Town Hall at 9.00; comfortable clothing suitable for a walk is recommended.
18 July and 1 August at 9.30
Montesei di Serso
Ancient landscapes between archaeology and nature
A walk from the archaeological site of Montesei di Serso to Lake Pudro natural reserve, accompanied by an archaeologist and an area guide, to learn while having fun about interesting facts related to the world of archaeology and nature.
Meeting point at Bar al Ponte (Pergine Valsugana - direction Altopiano di Piné) at 9.30.
The hike is also suitable for families with children from 6 years old. Hiking shoes are recommended.
25 July and 22 August at 9.30
Valcava
Archeotrekking in Valcava
Walk between nature and archaeology in Valle dei Mòcheni. Accompanied by a territory guide and an archaeologist we will climb, among farms and larch groves, to the pastures of Malga Pletzen, a place rich in history, legends and natural beauties, with breathtaking views of the Mòcheni valley.
Meeting point at the car park of Rindel sawmill in Valcava at 9.30, between Fierozzo and Palù. The hike is also suitable for families with children and strollers. Suitable mountain clothing is recommended.
Costs
Free admission; limited participants.
Info and bookings by 18.00 of the day before the event
PLEASE NOTE! In case of bad weather, the events won't take place.