The mountains in Val di Fiemme: an open air book
The shepherds' writings. Three centuries of rock art in Val di Fiemme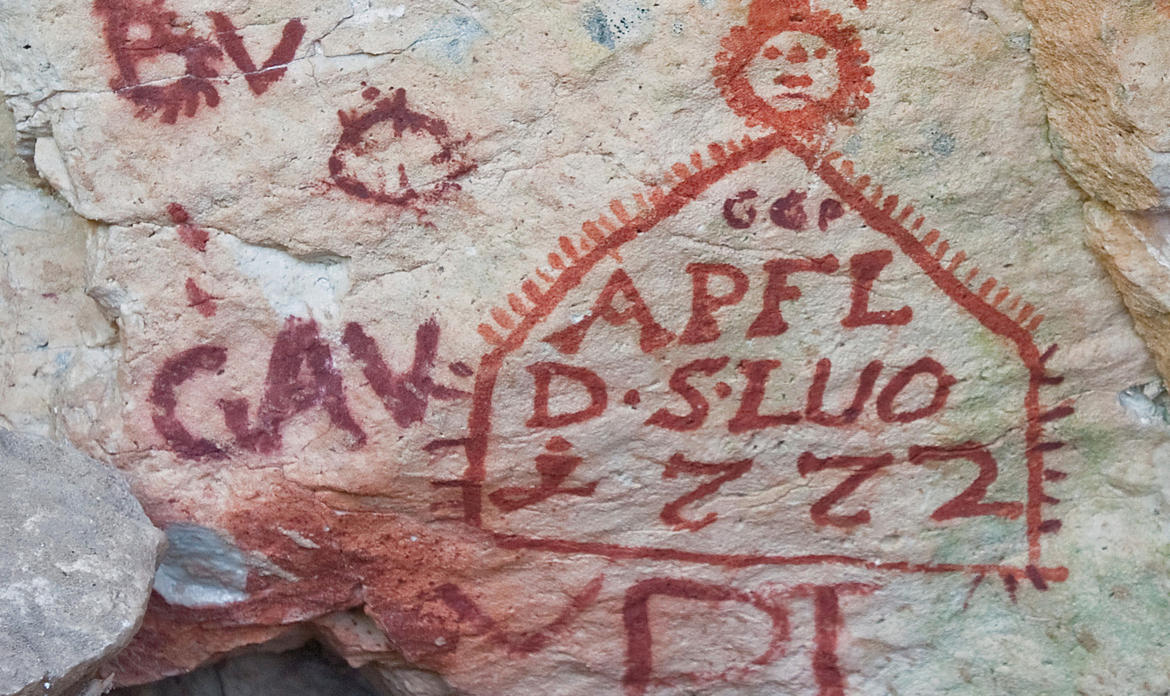 The exhibition "The shepherds' writings", organized by Marta Bazzanella for the "Museo degli usi e costumi della gente trentina" (Museum of the habits and customs of the people of Trentino) is now at the former "Tabià del Moco" in Ziano di Fiemme and is open until 11 January 2015.
Six years of research, 2.682 surveyed walls, about 30.000 writings located, of which 5.000 have been catalogued by now: these are the numbers of the research carried out by the "Museo degli usi e costumi della gente trentina" of San Michele all'Adige (Museum of the traditions and customs of the people of Trentino) on the mountains of Val di Fiemme and in particular on Monte Cornon.
The site www.scrittedeipastori.itoffers users the results of field research, surveys and interviews.
In fact, shepherds painted as many as thousands of writings on the slopes of Monte Cornon between the second half of the seventeenth century and the first half of the twentieth century.
These "open air" documents painted on the limestone cliffs of the south-looking slopes of the Cornon ridge, separating high-altitude prairies from halfway grazing lands, tell us about shepherds and flocks of sheet passing by. The writings on the rock were made with local red ochre, the so-called "ból"; such clay was mixed with goat's milk or saliva to obtain a thick mush to be applied with a small branch.
The writings feature the initials of the name and surname of the shepherds that made them, the indication of the year and often of the month and day too, and the tally of the livestock put out to pasture. The writings themselves may also be enclosed by borders of different shapes, sometimes accompanied by drawings and brief notes: religious symbols, drawings of animals, hunting scenes, portraits, self-portraits, greetings and diaristic notes.
Almost always the shepherd added the symbol or "sign" identifying his house, which in the past was very important since it attested whom the sheep and work tools belonged to.
The ethnographic research carried out by the Museum of San Michele has led to the identification of two rock shelters: the shelter of Trato and the shelter of Mandra di Dos Capèl, which were used respectively as a temporary resting place, and as temporary shelter during the summer season.
In the exhibition, a reconstruction of the shelter of Trato allows the visitor to retrace ancient rituals, and to examine the results of the analysis of the physical and chemical properties of the red clay of the writings. Such analysis were performed by Antonio Miotello and Laura Toniutti of the "Hydrogen-Energy-Environment Laboratory" of the Faculty of Science of the University of Trento.
Marta Bazzanella - exhibition curator
---
15/12/2014