Fort Strino
This fort is named after the river that flows close to Vermiglio in the Val di Sole at 1400 metres above sea level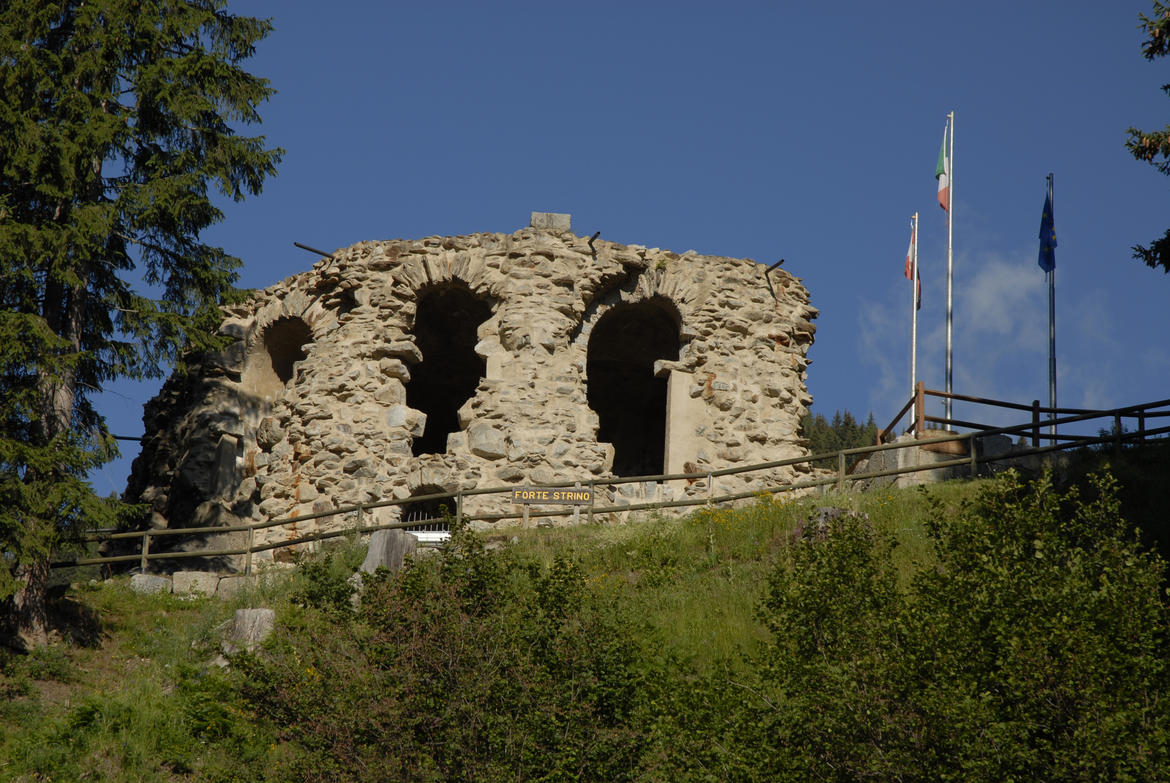 The first of the forts built in the higher part of the Vermiglio Valley hosts an exhibition dedicated to the "White War" and exhibitions of contemporary art. During the summer it organises guided tours to the forts of the Tonale barrage. In the tunnel of Passo Paradiso, at the arrival area of the cablecar, the "Suoni e voci della Guerra Bianca" exhibition can be visited.
The fort was built by the Austrians between 1860 and 1861 as a military garrison on the road between Vermiglio and the Tonale Pass. Being considered inadequate, the fort was decommissioned in the First World War and heavily damaged by recoverers in the 1930s. In the 1990s, the Autonomous Province of Trento launched a restoration project that led to its reopening in 1995.
Currently, First World War artefacts and memorabilia from private collections are displayed inside Fort Strino. On display are Italian, Austrian and German soldiers' uniforms; of particular interest is the camouflage jacket supplied to alpine skiers. There is also a model of the land to the west and east of the Tonale Pass, with details of the battle lines and the location of the fortifications and troops of the two opposing sides.
In summer 2012, new educational panels were made, in addition to multimedia tools and installations, which open a virtual window on the fortified landscape of the whole Valley of Vermiglio.
The museum is part of Rete Trentino Grande Guerra , which promotes the collaboration between those who cultivate the passion for the history and recollection of those happenings.
visitable: yes | disabled access
Notes on the accessibility to the site
Possibilità di raggiungere il Forte in automobile previo avviso. Dall'area di parcheggio al piano inferiore del forte, percorso in terra battuta lungo circa 25 mt (pendenza massima del 13%). La porta d'ingresso indicata è un cancello (sempre aperto durante l'orario di apertura), con un gradino a scendere di 14 cm. Le sale del piano inferiore sono accessibili, all'interno presenza di un gradino alto 12 cm e pavimentazione in ghiaino. Il piano superiore del forte è raggiungibile dal parcheggio esterno con percorso pianeggiante di 5 mt fino al portone d'ingresso largo 163 cm); gli spazi sono accessibili, ad eccezione di 2 sale che presentano gradini: 3 alti 17 cm e a seguire 2 alti rispettivamente 16 e 9 cm. I servizi igienici sono raggiungibili dal parcheggio con un percorso lastricato lungo circa 30 mt che presenta un gradino alto 10/12 cm; all'interno, il wc con incavo ha maniglioni di sostegno su entrambi i lati e pulsante di scarico posteriore; il lavabo, alto 72 cm, è collocato all'esterno.
Rilevazioni eseguite dal personale della Cooperativa HandiCREA