Scharoun Ensemble Berlin
Music by J. Brahms, H.W. Henze, L.v. Beethoven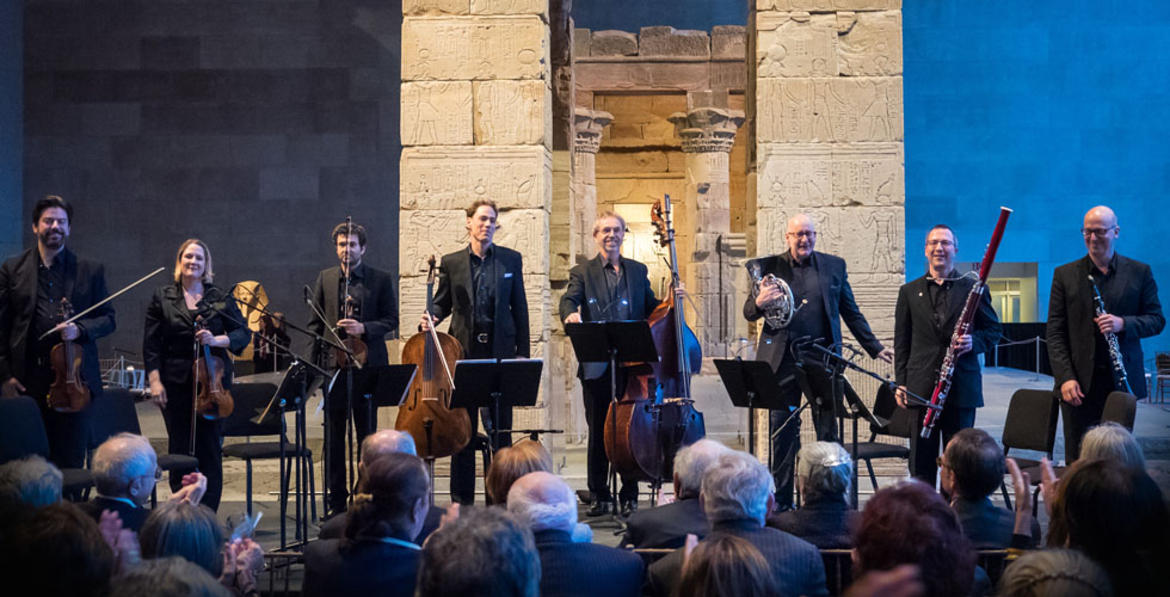 Music by J. Brahms, H.W. Henze, L.v. Beethoven
"Scharoun Ensemble Berlin"
Wolfram Brandl, violin - Rachel Schmidt, violin - Christophe Horak, violin
Micha Afkham, viola - Claudio Bohórquez, cello
Peter Riegelbauer, double bass - Alexander Bader, clarinet
Markus Weidmann, bassoon - Stefan de Leval Jezierski, horn
Founded in 1983 by members of the Berlin Philharmonic Orchestra, the Scharoun Ensemble is one of Germany's leading chamber-music organizations. With its wide repertoire, ranging from composers of the Baroque period by way of Classical and Romantic chamber music to contemporary works, the Scharoun Ensemble has been inspiring audiences in Europe and overseas for more than a quarter of a century. Innovative programming, a refined tonal culture and spirited interpretations are hallmarks of the ensemble, which performs in a variety of instrumental combinations.
The permanent core of the Scharoun Ensemble is a classical octet (clarinet, bassoon, horn, two violins, viola, cello and double bass), made up of members of the Berlin Philharmonic except from Wolfram Brandl, who is first concertmaster of the Staatskapelle Berlin and Claudio Bohorquez, internationally performing solo- and chamber music-cellist.
Source: https://scharoun-ensemble.com/en/
Programme:
J. Brahms: Variations on a Schumann Theme op. 9 (transcribed for octet by D. Glanert)
H.W. Henze: Four fantasies for octet
L.v. Beethoven: Septet op. 20 in E-flat major
Costs
full price ticket: € 25,00 | reduced price ticket : € 18,00 | University students: € 8,00 (in possession of the student pass of the Opera Universitaria).
Reduced price is available for young persons of up to 25 years of age and people over 65 years of age.
Information about presale tickets
Info: tickets - online purchase
---
organization: Società Filarmonica di Trento