Archaeological Park "Archeo Natura" of Fiavé
The Fiavé pile dwelling park, open from June 2021, offers a journey into prehistoric times between archaeology and nature to discover the UNESCO world heritage site of the peat bog of Fiavé.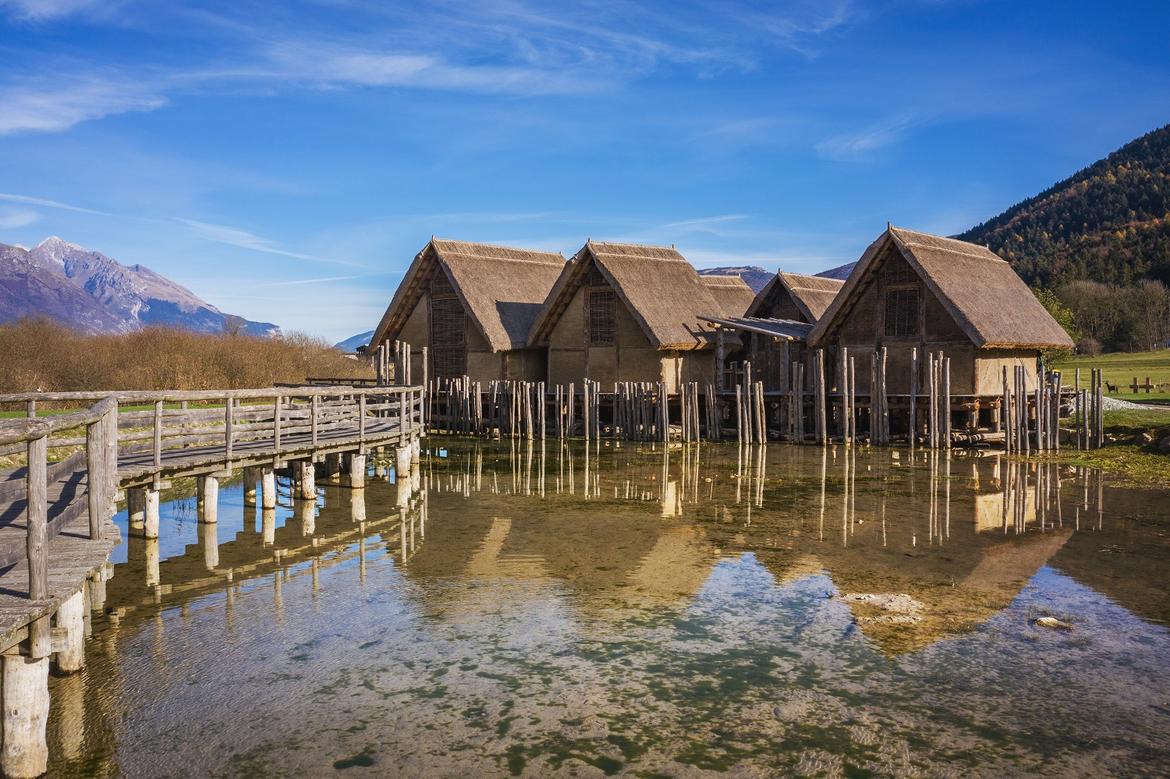 A fascinating journey through time, diving into the past, into the atmosphere of the pile-dwelling village of Fiavé to experience the life of our Bronze Age ancestors. Between Lake Garda and the Brenta Dolomites, in Fiavé, in the Valli Giudicarie, where once was the ancient Carera Lake, the pile-dwelling village rises today, in an environment of great value.
The Archeo Natura Park of Fiavé, open from June 2021, is a path of discovery and knowledge in the evocative scenery of the Fiavé-Carera nature reserve, a few dozen metres from the archaeological area where the remains of the posts that supported the prehistoric buildings are still visible. This is an area of great historical and natural interest and which been awarded three UNESCO recognitions.
The Fiavé pile-dwellings, together with those at Molina di Ledro, are part of the transnational site "Prehistoric Pile-Dwelling Sites around the Alps", included by UNESCO in the World Heritage List in 2011. This includes 111 settlements, chosen from around a thousand pile-dwellings dating back to between the 6th and 1st millennium BC, distributed around Switzerland, Austria, France, Germany, Slovenia and Italy.
Moreover, the Giudicarie area has been recognised as a UNESCO Biosphere Reserve, and the nearby Brenta Dolomites have also been declared a World Heritage Site.
The Archeo Natura Park and the archaeological area, together with the Pile dwelling Museum, located in an ancient rural building in the village of Fiavé, form a true archaeological centre, full of surprises for visitors of all ages. All this is an invitation to adventure and exploration of the past along an engaging route with installations illustrating life at the time of the pile dwellings, information panels, a visitor centre with films and multimedia equipment, rest areas as well as spaces dedicated to families and children.
---
Watch the video:
2021 - 10 years UNESCO World Heritage "Prehistoric Pile Dwellings around the Alps"
In 2021, the "Prehistoric Pile Dwellings around the Alps" celebrates the tenth anniversary of its status as a UNESCO World Heritage Site.
Of the more than 1000 known pile dwellings in central Europe, only 111 representative sites in France, Italy, Switzerland, Slovenia, Austria and Germany were selected to receive this special status and recognition. Among them there are Trentino's pile dwellings of Fiavé and Ledro.
Discover the UNESCO World Heritage pile dwellings in the Alps and the anniversary events:
Prehistoric Pile Dwellings around the Alps
---
visitable: no | suitable for: children - adults - families - scholars - university students - schools