Museo Retico (Rhaetic Museum)
Centre for the archaeology and ancient history of the Val di Non - Sanzeno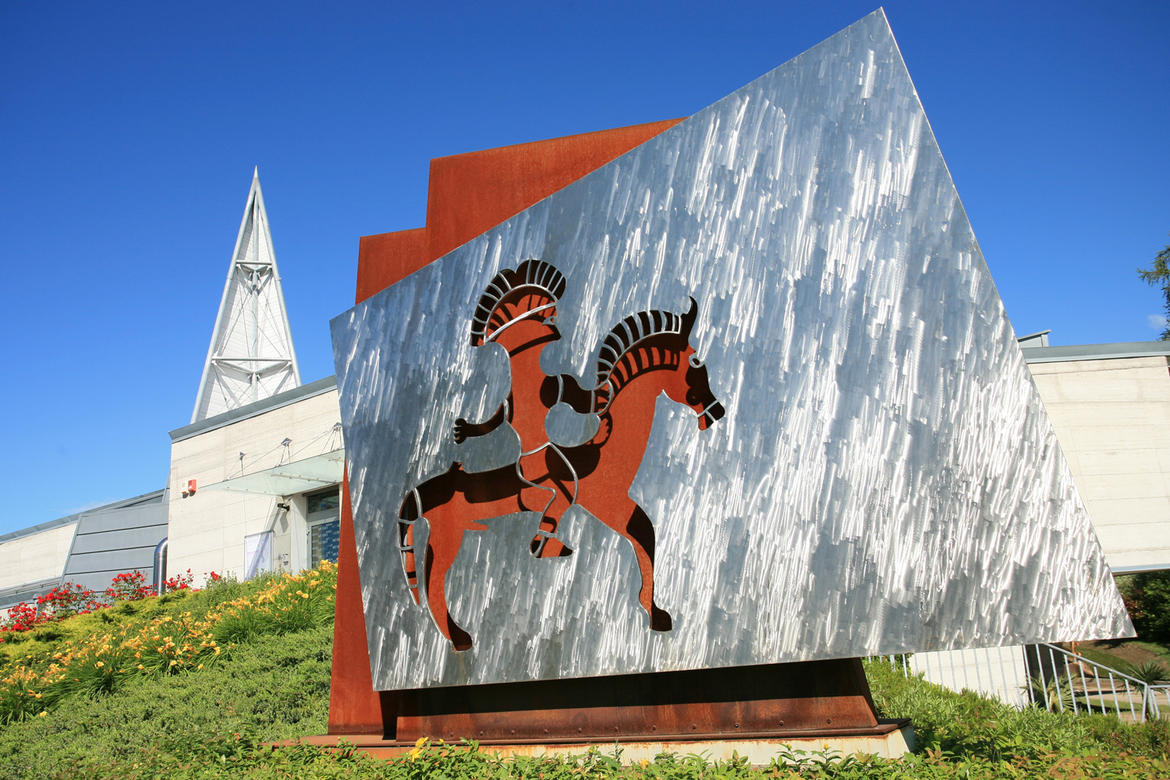 The Rhaetic Museum is situated at Casalini, in an area which is particularly significant for the history of archaeology in the Val di Non. Indeed, in the 1920s and 1950s the first important excavations were carried out here, bringing Sanzeno and the Val di Non to the attention of the international scientific community. The building in clearly deconstructionist style, designed by the Trentino architect Sergio Giovanazzi, offers permanent displays relating to the rich local archaeological heritage. There are also video, meeting and conference rooms, spaces for temporary exhibitions, educational activities and laboratories and a branch of the "Pia Laviosa Zambotti" archaeological library in Trento, together with a large external area dedicated to experimental archaeology.
Inside the museum it is also possible to visit the "Ancient Sanzeno" exhibition, which illustrates the history of the archaeological research carried out from the 19th century to the present day. The building is situated at the start of the nature trail leading to the fascinating gorge with the Sanctuary of S. Romedio.
The displays wind their way through chronological periods and thematic areas of particular significance, following an evocative itinerary which accompanies the visitor on an imaginary journey through time, from Prehistory to the Early Middle Ages. With the aid of technological and multimedia resources, the museum presents a succession of evidence relating to Palaeolithic hunter-gatherers, the first Neolithic farmers, the metal-workers of the Copper Age and cult places dating back to the Bronze Age. An important role is reserved for evidence regarding the Rhaetic people, known to Roman sources, presenting a wide range of material related to the culture: magnificent artistic items, objects linked to the field of worship, working tools and simple everyday objects. The various stages of Romanisation in the valley are followed, marked by the realisation of statues, rich funeral objects, epigraphic documentation and signs of the new cults coming from the East. Finally, the tragic episode which saw the death of the Anaunia martyrs preceding the definitive establishment of Christianity is recalled.
The evocative and interesting set up of the museum, planned by the Turin architect Maurizio Buffa, the findings brought to light over decades of research or handed over by private individuals following chance discoveries and the images and sounds reproduced come together to create an exciting journey back through time, suspended between the past and the present, rediscovering our roots.
The Rhaetic Museum thus offers itself as an active centre for cultural communications, a valid tool for promoting the ancient history of the area and a meeting place open to local groups, destined to play an important role within the context of cultural and tourist resources in the whole of the Val di Non.
Source:
Autonomous Province of Trento
Soprintendenza per i beni culturali
Ufficio beni archeologici
The museum joins the initiative Museum pass
---
Il Museo Retico aderisce al Distretto Famiglia Val di Non
---
visitable: yes | suitable for: families - schools | disabled access
Notes on the accessibility to the site
---
organized by Ufficio beni archeologici